"For people who want to easily maximise their energy and focus, AUTONOMY is the new way to start the day.."
"AUTONOMY nails the creaminess of nut milk while also delivering a delicious adaptogen blend."
"THE BEST! Has changed my travel routine in a major way. Easy to incorporate into my mornings when I'm constantly on the road. 10/10"
"Not only do we prefer the taste over oat milk we appreciate the nutritional value and the feeling of being more awake & alert after our morning cup."
Trinity Pack
1 x Each Flavor
Can't decide which flavor to try? We got you.
The Trinity Pack comes with our smart creamer, smart latte and smart matcha latte.
You can have it all (and we think you should).
Sale price
$79.00
Regular price
Unit price
per
2 week money back guarantee
What's in the box?
Explore the starter kit
Your new morning routine includes:
One of each of our 3 flavors of AUTONOMY
shipped in completely recyclable packaging
First time orders come with:
free rechargeable frother
free AUTONOMY dispensing key
free access to our online "AUTONOMY Morning Masterclass"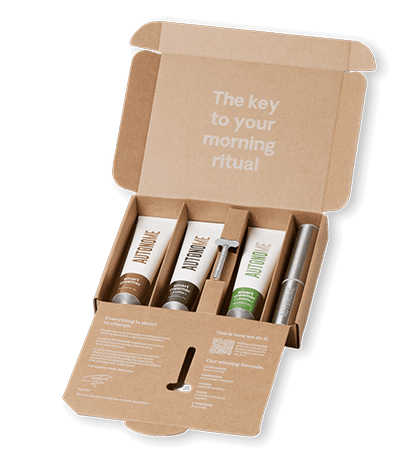 FREE frother and key with first purchase
Our optimized stack
No fairy dust here. We are committed to sourcing the highest potency active ingredients from the most trusted suppliers and using an effective dose in every tube. We want you to feel the difference.
WHOLE FOODS
Almonds

Clean energy boost

Cashews

Hunger Satisfying Fuel

Dark Roast Coffee

Approx 80-100mg of caffeine per cup

Macadamia

Clean energy boost

Matcha

Grounding consistent enrgy
ORGANIC MUSHROOMS
Lion's mane

Focus + clarity

Chaga

Anti-inflammatory

Cordyceps militaris

Endurance + recovery

Reishi

Immunity + stress support
Fats & oils
Healthy fats & MCT oil

Quickly accessible sources of clean energy for your brain
Amino acids
L-Theanine

Derived from green tea to encourage flow state